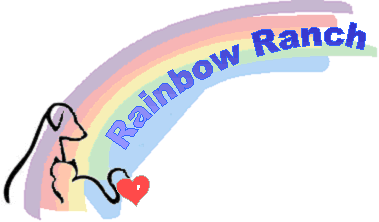 an adoption and retirement home for dogs and cats
About Us
Rainbow Ranch is a private rescue home for senior, ill, and unadopted good cats and dogs. We all live together on a gated, three acre site in the rural town of Candler, near Ocala, Florida. Occasionally, new rescue felines and canines are available to selected good homes through adoption. If you are looking for a new fur-kid, please click on the Animals button below. All the residents of the Ranch are profiled and all adoptable dogs and cats will have the word "ADOPTABLE" preceding their names.
Rainbow Ranch derives its name from two Native American beliefs. The Navajo tell of a Rainbow Trail that leads out of a dark mist. The Wyandotte retell the legend of the Rainbow Bridge over which animals pass to the heavens, allowing only humans who have been good to the animals to join them in the heavens. Many of the Rainbow Ranch animals have come from dark mists of abuse, neglect, illness or were simply unwanted. And all of them will eventually cross the Rainbow Bridge. The Ranch is a rainbow trail for these animals.
The Ranch is an all-volunteer animal shelter and rescue, and humane education operation. It is no-kill, except when euthanasia is the merciful choice to sickness and suffering. The Ranch specifically operates to provide loving homes for cats and dogs leftover from rescue or shelters, or who are too old or sick to be adopted. A West Virginia regional extension office is located in Charleston, WV. Founded in 2001, the Ranch and its efforts rely solely on private donations. No directors receive any compensation.
The founders of Rainbow Ranch live at the facility with the animals. Another director lives in the neighboring community and the fourth director lives in Charleston, West Virginia, overseeing rescue operations there.
Inside the house are three cozy rooms for the cats, totally separate from the dogs' areas. Each windowed room has cat trees, comfy chairs and beds for napping, and boxes and toys for playtime. Except for the office and cat quarters, the dogs have full run in the remainder of their home. Cuddle beds and crates are scattered throughout for sleeping. All human-sized furniture is covered with blankets and throws, especially for burrowing. The large kitchen includes an island counter and a huge separate pantry for fixing breakfasts and dinners, each individually prepared, as well as for baking home-made dog biscuits.
The front acreage is mostly an undeveloped, forested wildlife sanctuary. Year-round residents vary, but include Pierce, a red shouldered female hawk, who is joined by her mate and subsequent fledglings each February and March. Joining Pierce are Pete the Opossum, a flock of Sand Hill cranes, many owls, a family of raccoons, an elusive coyote, moles, snakes, rats and mice (although the dogs and the snakes keep them to a minimum), and many squirrels. Birds abound here. Beside the cranes, this is over-wintering territory for hundreds of robins, blackbirds, chickadees and cardinals. Year-round, the Ranch boasts a large flock of bluebirds, wrens, titmouse birds, sparrows, three identified species of woodpeckers, several kinds of finches, grackles and doves.
The back acre is the dog park into which roaming dogs from the neighboring farms are always trying to dig! The dog park has shrubs and azaleas for hiding, lots of wonderful sandy soil for digging, and large open grassy areas for running. Two very old, large Live Oak trees, a hickory tree, and a water oak provide shade. The Loquat tree (non-toxic to dogs) offers yummy treats in the late winter. There are also five citrus trees to provide shade and give the humans fruit. The back acre does include a swimming pool safely gated and fenced, in which the dogs are allowed to swim only when humans are present as lifeguards.
To arrange a tour when you are visiting central Florida, please call before 5:00 pm when our very chaotic, but carefully choreographed dinnertime for 31 starts. As time passes, we hope to have the sanctuary finished, with a leashed-dog nature walk, agility equipment and more, to benefit the dogs and cats of Rainbow Ranch.
If your heart has been touched, please consider a donation of supplies or money to help our efforts. All donations are tax-deductible, according to Internal Revenue Service (IRS) regulations. Should you have questions about the tax law, please contact your accountant or the Internal Revenue Service.
Thank you for visiting our website and loving animals as much as we do!
Heather, Karen, JD, Elaine, and all the critters at Rainbow Ranch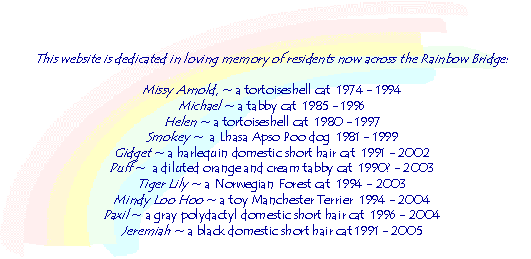 Rainbow Ranch
an adoption and retirement home for cats and dogs
P.O. Box 685
Candler, Florida 32111-0685
Phone: 352-680-1707
FAX: 352-680-1807
Email: rainbow_ranch@earthlink.net
(a registered 501(c) 3 Non-Profit Organization)