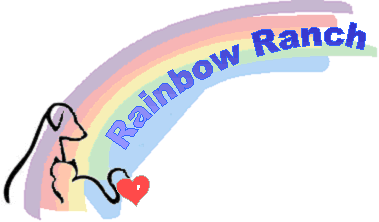 | | | |
| --- | --- | --- |
| an adoption and retirement home for dogs and cats | | |
Donations
As a very small rescue, we are always in dire need of cash, animal supplies, and volunteers. While we recover some expenses through adoptions, most of our residents are not adoptable. In 2004, for example, we spent $15,000.00 on veterinary expenses, in addition to all of the day-to-day expenses of feeding and caring for the beloved animals.
As of March 24, 2005, we are a registered 501(c) 3 organization. All of your donations are tax deductible within the Internal Revenue Service regulations. If you have questions about tax allowances, please contact your accountant or the Internal Revenue Service. We'll gladly provide you our 501(c) 3 registration number, if you need it.
If your heart is moved, and you love animals as much as we do, please consider ~

~ sending a check ~ payable to Rainbow Ranch Pet Retirement Home, Inc. ~
M

ail to:

Rainbow Ranch

PO Box 685

Candler, FL 32111-0685
~ include Rainbow Ranch in your will.
Please contact us by e-mail

(

rainbow_ranch@earthlink.net)

or phone

(

352-680-1707)

for any necessary tax numbers and data that your attorney may require.
PLEASE REMEMBER ~~ you will be helping an animal in need, and your donations are tax deductible according to the IRS regulations!


As a Rainbow Angel, you may specify a particular animal to sponsor. We will send you, at least quarterly, updates and photos of your fur-friend, along with a certificate naming you as that dog or cat's Angel.

To be an Angel, please send a quarterly donation for your fur-friend in whatever amount you can. Any monies you send will be used specifically for your fur-friend. A special need right now is for Henry, the English Setter, who is undergoing Heartworm Disease treatment costing about $400.00. Henry needs lots of Angels!

If you live in or near Marion County, Florida, and would like to volunteer, we would love to hear from you. If you are under eighteen years of age, a parent's signed permission is required.

Please call 352-680-1707 anytime, except at the doggy dinner hour around 5:00 p.m. Or, email us at: rainbow_ranch@earthlink.net - there are so many things to do, and you have so many talents, that we will match our needs to what you wish to do to help!

Thank you!!!!!

Office Supplies:


Inkjet printer cartridges, equivalent to "#56" or "#29" black & white or "#57" or #49" color


8.5 x 11 copy paper


envelopes - any size


postage stamps

Dog Department:


Dog walkers

~ these little guys love to get out with human company
$15.00 per month for Sweetie's Theophylline to treat Chronic Obstructive Pulmonary Disease


$12.00 per month for Tina's Metacam arthritis medication


any type dog biscuits - coupons just fine!


coupons for dog biscuits or Pedigree Canned Dog Food


Exceed (Sam's Club) Premium Kibble Dog Food


new or used comforters


new or used pillow cases


tennis balls


unwanted dog agility equipment


bandanas


snuggle sacks or washable dog beds


new or used standard washable bed pillows


dog crates


any type Glucosamine food supplement tablets


ottomans or pet ramps

Cat Department:


Cat Playpals - take time to pet and play with the felines

; you don't have to scoop


cat treats


any cat kibble or canned food - coupons just fine!


snuggle sacks


coupons for clumping cat litter


cat carriers


covered cat litter boxes

Shelter Supplies:


hotel or motel soap samples - we go through tons of soap!


Nature's Miracle and Oxyclean cleansers or coupons


laundry detergent or coupons

. . . we deeply appreciate monetary donations of any size - every dollar is appreciated - and all volunteers are worth their weight in GOLD!

Thank you on behalf of the residents and rescues of Rainbow Ranch.

Rainbow Ranch
an adoption and retirement home for cats and dogs
P.O. Box 685
Candler, Florida 32111-0685
Phone: 352-680-1707
FAX: 352-680-1807
Email: rainbow_ranch@earthlink.net

(a registered 501(c) 3 Non-Profit Organization)